Picante Meatloaf
From Gramma's recipe collection. A twist on meatloaf. You can use spicier sauce if you like a bigger kick. The recipe calls for carrots, but as a kid I never knew they were there and Gramma assures me they were, so if you want your kids to eat more veggies, I suppose this is a good way to sneak them in! When I make it, I sometimes add salsa that contains black beans and corn to the loaf ingredients. (Recipes courtesy of Food.com. Chef Candace Michelle).
Difficulty




Cost



Category:
Ground Beef
-
Ready in:

5m
-
Cooking time:

40m
-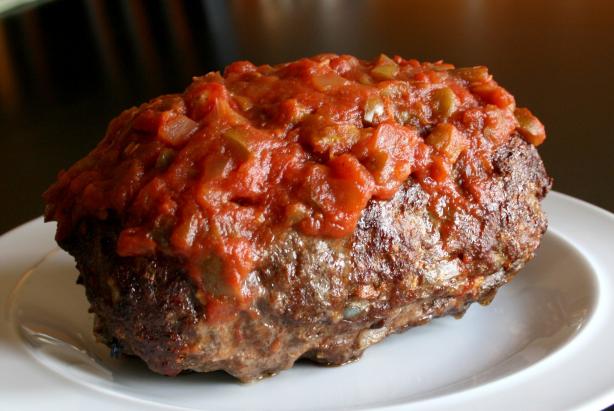 Ingredients
For 6 people
Recipe
1

pound(s)

ground chuck

0.67

cup(s)

breadcrumbs

0.5

cup(s)

chopped onion

0.25

cup(s)

coarsely chopped carrot

2

egg whites

0.25

teaspoon(s)

salt

0.25

teaspoon(s)

rubbed sage

0.25

teaspoon(s)

pepper

0.5

cup(s)

picante sauce
Picante Meatloaf Directions
Combine first 8 ingredients. Shape into a loaf and place on a rack coated with cooking spray. Place rack in a shallow roasting pan.

Bake at 400°F for 35 minutes. Brush picante sauce over loaf. Bake an additional 5 minutes. Let stand 5 minutes before slicing.